By Joshua Weitz, Photos by Tony Decline
Dec 18, 2008 - 9:17 PM
The Independent on Divisidero in San Francisco was the location of the premier of "Keys 2 The City" presented by Imeem. I'm always appreciative of weeknight hip-hop shows, and the line up for this one was phenomenal. Fashawn, Richie Cunning, iLL-Literacy, Keelay & Zaire, Blu and U.N.I held it down until closing time. The half capacity crowd was entertained and kept warm with a line up that was above and beyond one would expect on a cold Tuesday night.
First up, Fresno upstart Fashawn hit the crowd with cuts off his eclectic One Shot One Kill and Higher Learning mixtapes and had them thinking. Streetwise San Francisco rapper Richie Cunning jumped on next and upped the energy with classic boom bap beats and call and responses. Right about then the Bay Area's own iLL-Literacy took the stage, slowed down the tempo a bit, and hit the crowed with their distinct style of poetry and rap. The clichéd usage of bongo in their poetry performance was a welcome gag that lightened the vibe of their show and demonstrated that they could do what almost no emcees can--make fun of themselves.
Blu's easy stage presence and seamless flow was definitely the highlight of the night. U.N.I were last up, and while parts of their show were a bit gimmicky--a la pulling out an original Nintendo zapper and holding them up to the sky--their hyper stage presence was the perfect way to wrap up the show.


Grizzly City representative Fashawn throws up what looks like "the shocker"...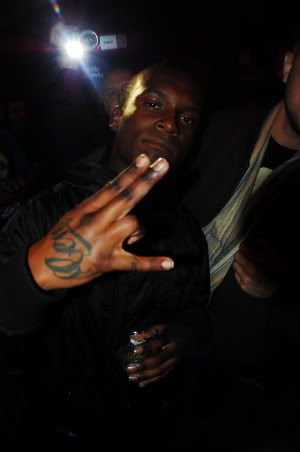 Richie Cunning bleeds orange and black...

Dahlak and Adriel of iLL-Lit putting all kufi rockin', mocha late sippin', bongo bangin pretentious poets to shame...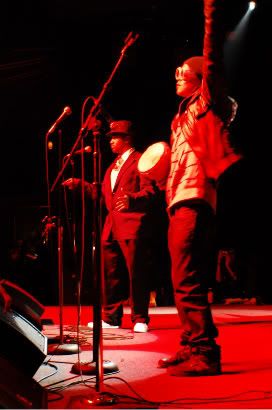 Nico of iLL-Lit holding it down...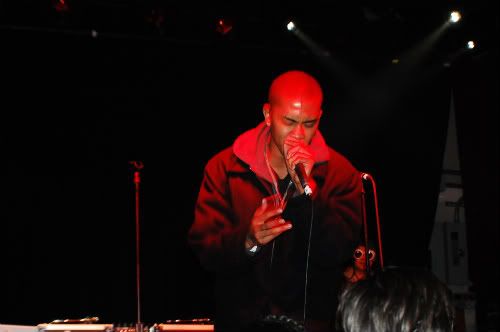 Big Blu's buttery flow had the crowd going nuts. F'real, you're sleeping mad hard if you don't have the Johnson&Jonson or Blu & Exile albums...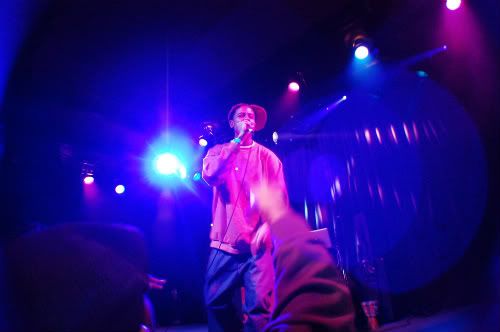 Fuck a stage, U-N-I hops in the middle of the crowd...