By Joshua Weitz
Feb 22, 2009 - 3:52 PM
I've always been a reprezenta of "geek chic" even before Hollywood fashionistas and celebrity stylist coined and popularized it. Thick framed spectacles appealed to me ever since I needed glasses. For one thing I can't put anything close to, near, or in my eyeballs ever, so sturdy and thick constructed frames feel like a protective armor for my eyeballs. I've never worn contacts and have been a four eyed geek dork from the 8th grade on and proud of it.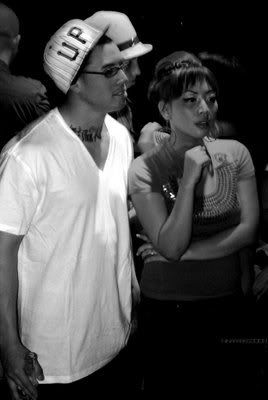 My cousin Eye-A-Sage on the right, and I in my favorite pair of Prada frames.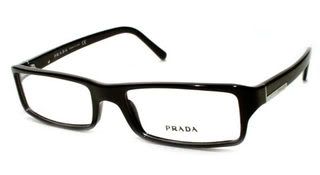 A closer look my favorite pair.
Unfortunately my most prized pair of Pradas broke in an accident. More specifically, this accident where I was jumped by some shady Bernie Madoff supporters at my cousin Larry's bar mitzvah. You can see me in the back in a white T being tackled by black clad Madoff henchmen: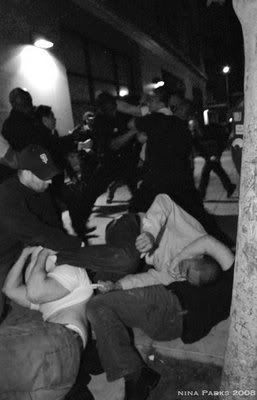 So I went shopping this morning for a new pair. While I was wading through the endless sites about the new "geek chic" look being rocked by every single celeb and they momma, I stumbled across this HILARIOUS site and article.
Stuff Jewish Young Adults Like: Eyeware
"It is a well known fact that glasses have typically been associated with dorkdom, nerdiness, and it is a well known fact that Jews have also typically been associated with the same qualities. In response to this blatant stereotyping, JYAs of today have decided to flip the equation and embrace their geeky labels as a way of overcoming the bias. By wearing their fashionable glasses with deliberate pride JYAs have shown the world, yes, we are dorky, but we are also cool enough to admit it."
While this article was hugely amusing to me, as I read along and saw other sarcastically stated traits of other "JYA" (Jewish Young Adults) my glee was mollified and turned to self-reflection.
I was raised almost completely by the Philipino side of my family in San Francisco and Daly City, CA. Culturally and ethnically, that side is who I feel I most identify with and naturally so. I barley kept any amount of my life or childhood with my Jewish cousins in L.A, Long Island, St. Louis, Boston, New York, Tuscon or Miami. So I had to ask myself when I saw stupid traits about myself turn up on the site--like "Being Attracted To Neurotic People," "Denying That We Are White," or "Claiming Allergies To Common Foods", or being fans of psudo indepent artists--is the cultural heritage, zeitgeist and the historical struggle of your people something that imbues itself into you automatically, almost genetically encoding itself into your make up? As I get older will I start acting more like my pops (who is Jewish) no matter how hard I fight? Will I neurotically squeeze every ounce of worth from a penny like him even though I don't have to? Will paying attention to every detail of accounting and legal paperwork that crosses my path become more and more second nature? (I already feel and see it happening.) Will I start hooting and hollering about a birth rite to a mythic Jewish homeland in what is now occupied Palestine? Maybe I won't go that far, but to answer my own questions, I think the answer is, "Yes."
Whether you like it or not, ignore it or embrace it, bits of your ethnic traits, neurosis, and collective psyche do live in you. To see that parts of my heritage that I completely ignored and were almost oblivious to have such a big affect on me in such unsuspecting and humorous ways is great, and I'm glad to have re-kindled my interest in my jewy ewwwy ewwwy side. Just a thought.